These traditional Easter dinner ideas are sure to make your family Easter dinner a HUGE success! You can't go wrong with ANY of these tried-and-true recipes!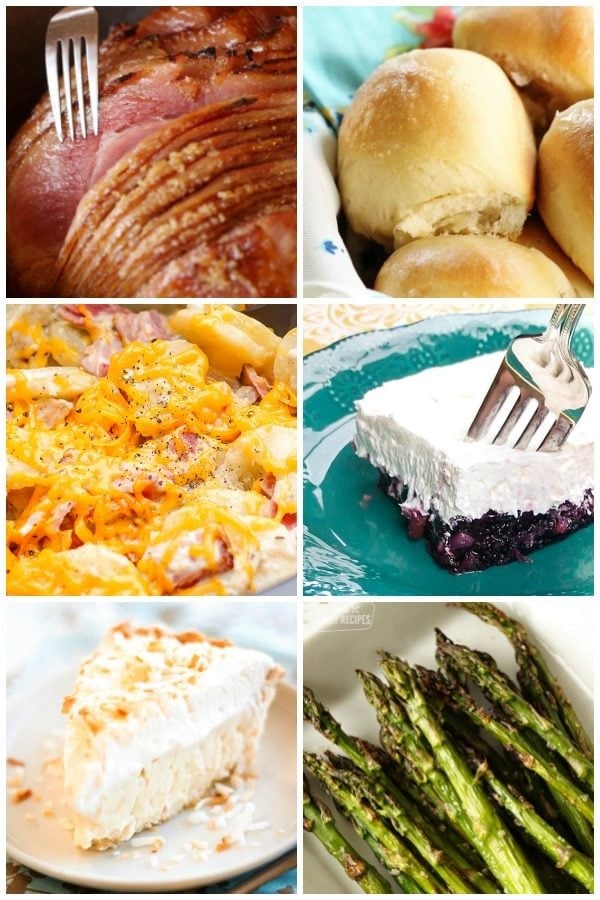 Traditional Easter Dinner
Every year our family gathers together on Easter Sunday to enjoy a traditional ham dinner. We usually serve some kind of potato dish, a salad, and hot homemade rolls. Some families enjoy pork loin, pork chops, or even lamb for Easter dinner. These are all very traditional Easter dinner ideas as well. We know every family is different but we wanted to share with you our very favorite Easter Dinner ideas, including side dishes, salads, and even desserts! As an added bonus, we will also share with you a sample Easter Dinner including recipes!
Easter Main Dish Recipes
Honey Baked Ham Recipe
Slow Cooker Ham with Maple and Brown Sugar

 

Herb Crusted Salmon
Baked Salmon with Lemon
Instant Pot Pork Chops with Gravy
Crock Pot Pork Roast
Crock Pot Pork Chops
Sunday Pot Roast (Instant Pot Recipe)
Oven Roast Beef
Easter Potatoes
You can't serve a ham dinner without a good potato side dish. Typically Easter potatoes are served "casserole-style" in a casserole dish with some kind of sauce and cheese. Some examples of this are funeral potatoes or potatoes au gratin. Our readers have commented saying that they have loved serving our creamy potatoes with peas or our parmesan potato halves with their ham dinners as well. Check them all out and decide for yourself what suits your family best! Any of these Easter dinner ideas will be a winner!
Funeral Potatoes

 

(aka "Cheesy Potato Casserole)
Parmesan Baked Potato Halves 
Creamy Potatoes and Peas

 

Potatoes Au Gratin

 (or Dauphinoise Potatoes)

Crock Pot Potatoes Au Gratin
Easter Desserts
When it comes to Easter Desserts and Treats, we don't mess around. In fact, we love Easter desserts and treats so much, we created an entire, separate post dedicated to them (click HERE). These tasty treats can be served along with Easter dinner or even as surprises in Easter baskets. They are as fun to make as they are to eat! Here are a few more of our favorites:
Easy Easter Dinner Menu with Recipes
Here is a sample menu plan for a delicious and easy Easter Dinner. It features Slow Cooker Ham, Cheesy Potato Casserole, Sautéed Sweet Asparagus, and a Four Layer Banana Pudding for dessert. See the Recipe Notes for timing it all out perfectly. We are taking all of the stress out of it just for you! Please enjoy your beautiful, well-planned Easter Dinner!